Sales CURE
BECOME A KILLER CLOSER
What is The Sales CURE?
The Sales CURE is an online course you can complete in less than five (5) hours that will teach you the secrets of becoming a "killer closer." Learn directly from sales master Julia Pimsleur, a successful entrepreneur and scaling coach who has sold over $20M in products and services. She created the CURE Method™ to help others have more success and more joy while selling.
Whether you are an entrepreneur or sales person, sell services or physical products, this course will take your sales strategy to the next level, and will pay for itself right away.

CURE is an acronym for the proven sales method you will learn in the course. Mastering it will allow you to close with greater confidence and more consistently. Then you can teach the CURE Method™ to your team and colleagues so you can become "killer closers" together.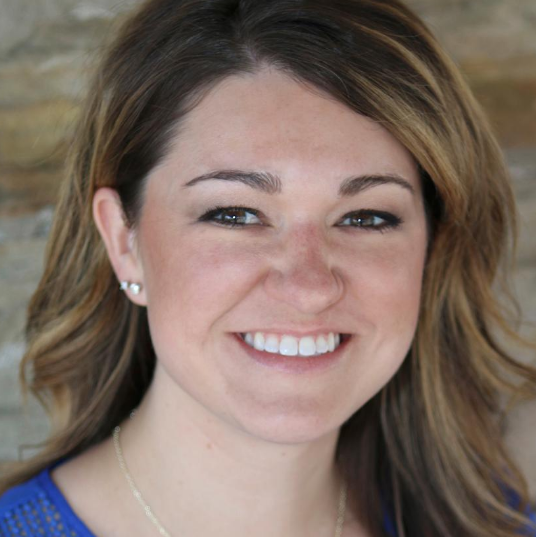 "The first time we used The Sales Cure, we closed a $30k deal! Now that I have a reliable sales method, I can teach it to my team, and spend more of my time working with clients. It was easier that expected to learn how to go from a first call to a 'yes'!"
KRISTIN GOLLIHER
CEO, Wildrock
SOUND FAMILIAR?
☹ You are not currently using a script or any sales tools during sales calls
☹ You have never taken a sales training, so you are not sure whether you are good or bad at selling
☹ You have read 55 books on mindset but none on sales
☹ When your potential customers tell you "no," you still think this means they don't actually want to buy anything from you
☹ You have delegated your sales, which is not working out too well
Sales CURE was made just for you.
After taking this program You Will:
👏 Stop hating sales…forever!
👏 Lose that wall your brain puts up right before you make a sales call
👏 Learn a sales method that can turbocharge your sales
👏 Learn to easily change a "No" to a "Yes"
👏 Always have the right thing to say at the moment your client starts protesting
👏 Have the confidence to sell your products and services for what they are worth
👏 Close more often
👏 Get everyone on your team excited about sales
👏 Free up more time to work on your business that you have been spending on ineffective sales calls
👏 Have as much confidence around sales as you do with every other part of your business
👏 Learn to teach your team to close as often as you do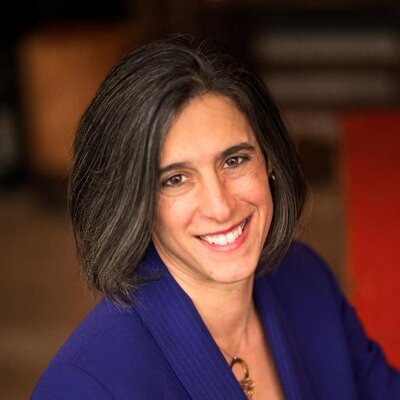 I loved learning the CURE Method from Julia - it started to make a difference in my prospect calls the next day! Now I can move forward with my favorite part - the project work - faster!
ILANA PREUSS
Founder & CEO, Recast City LLC
Here's exactly what you're going to get in Sales CURE
1. Learn a belief-shifting method that will change how you see selling and double your chances of success
2. Discover the one secret mindset shift you must make, and make it easily and painlessly
3. Find out how to make your new beliefs stick and start working for you during sales calls and meetings right away
1. Master the CURE Method™ so that you can close more often and easily
2. Frame every call or meeting so that you are in control and have maximum confidence
3. Develop a tried and true sales script using our proven script template
part 3:
become a killer closer
1. Master and take a deep dive into the 5 P's of the Sales CURE
2. Handle objections like a pro going forward and close the deal
3. Have an effective pricing conversation, and stay confident in what your products and services are worth--something that many sales people struggle with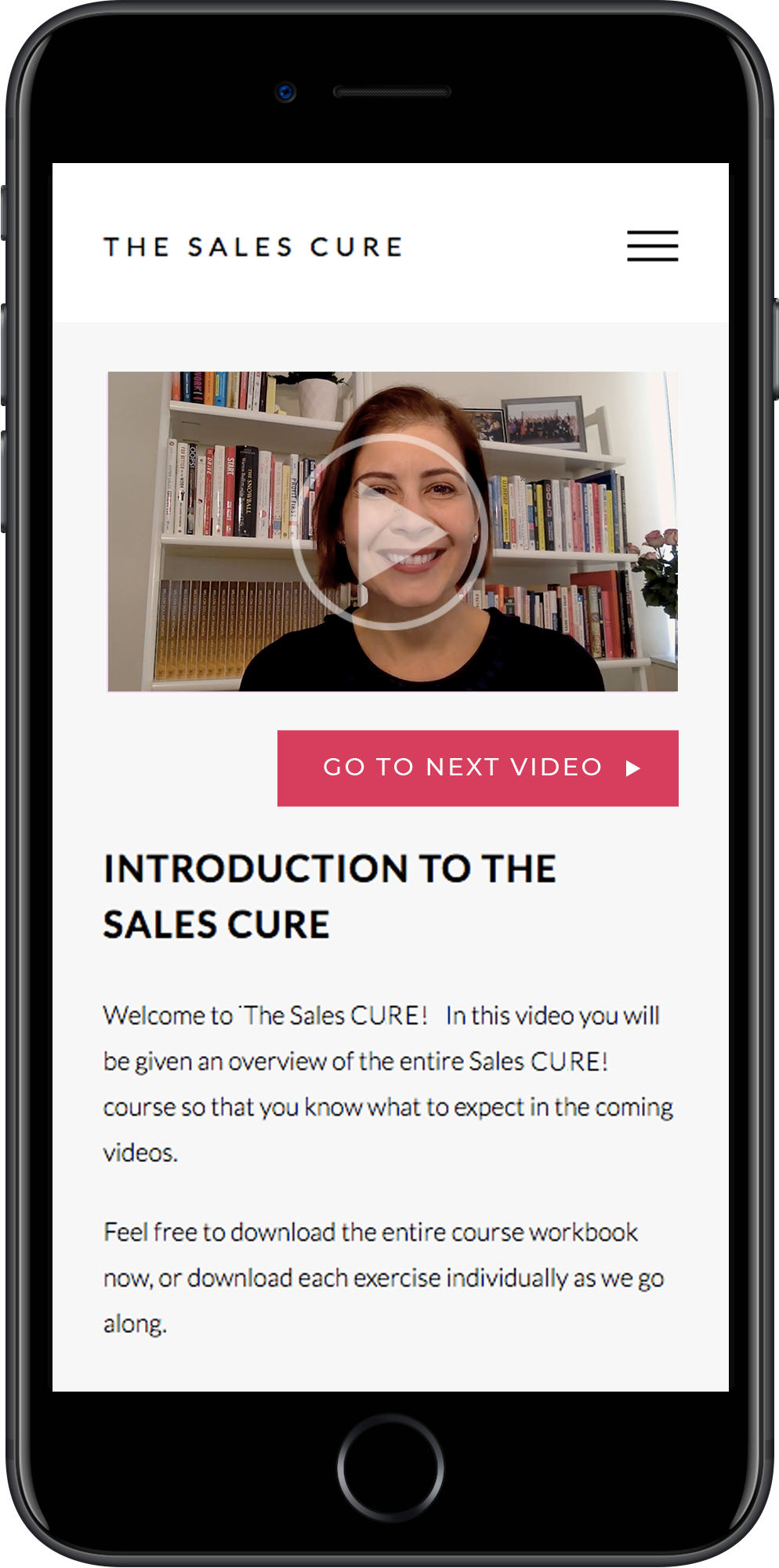 One of my favorite parts of the Sales CURE was how Julia zeroed in on how to deal with objections. That's the place where I was stuck!! I have taken other courses that helped but there was always something missing. Julia shows how to frame the call so when objections come, you don't get caught off guard and lose the sale.
ANGELA YEH
Founder & CEO, Yeh IDeology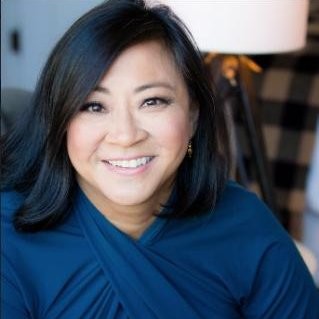 + these bonuses:

BONUS 1:
PRICING: SPEAK UP AND SHUT UP
A lot of people struggle with the pricing part of a sales pitch because this is where objections come up. "It's too expensive," "Let me think about it and get back to you,"and "I will call you back" are all objections that I am sure you have heard (probably many times) before. These objections can easily trip you up or talk you out of the sale. I don't want this to keep happening to you, so I created this bonus video.

BONUS 2:
THE THREE DEADLY SELLING MISTAKES
There are three deadly selling mistakes that you are probably making during sales calls without even realizing it. In this bonus video I give you the antidote to these three common mistakes and the ability to keep your sale alive.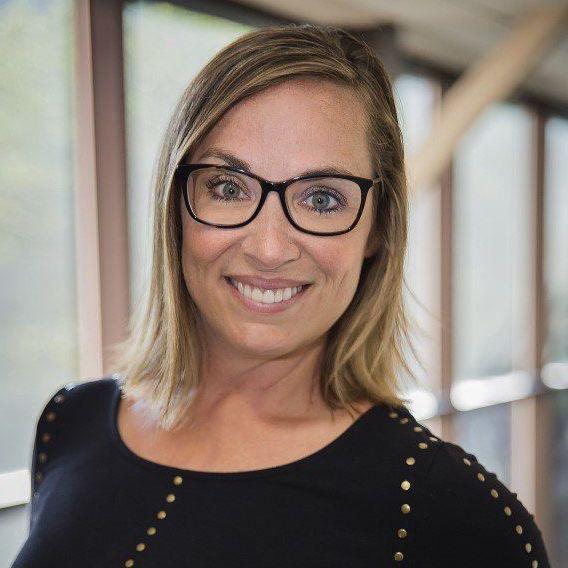 I just used the Sales CURE to close a social media management six month contract! It was great to see the relief in my client's eyes when she found out we could help her. Sales feel so much easier now that I have the method. My sales person and I are finally using the same language and we are having the entire team take Sales CURE so we can all reap the benefits!
Renee Sobotka
CEO/Founder, True North Technologies
Invest in your sales strategy
It will pay for itself
"The Sales CURE helped me look at sales in a whole new way. I now find it so much easier to enter sales discussions and there are a few techniques that come to mind which I use often: standing by my pricing after saying is where I often failed before and had no idea before Julia's program."
RALUCA SPIAC
Managing Partner at Beyond Dracula Travel
What Sales CURE grads are saying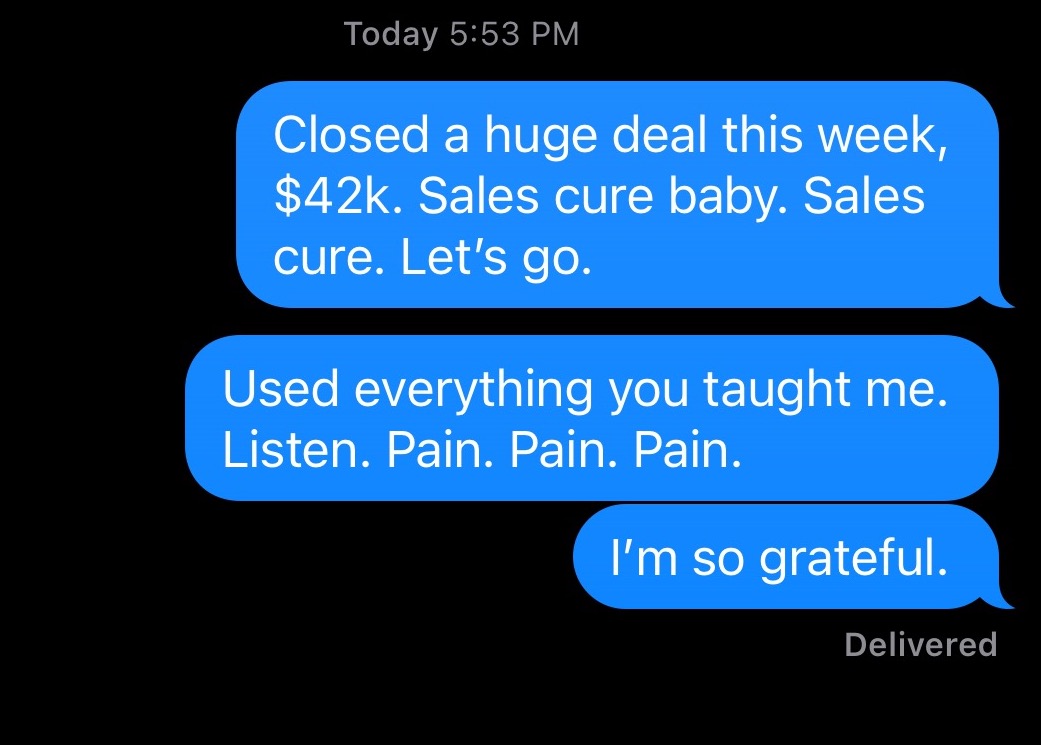 Natalie Micale, CEO & Founder
Oh Hello Marketing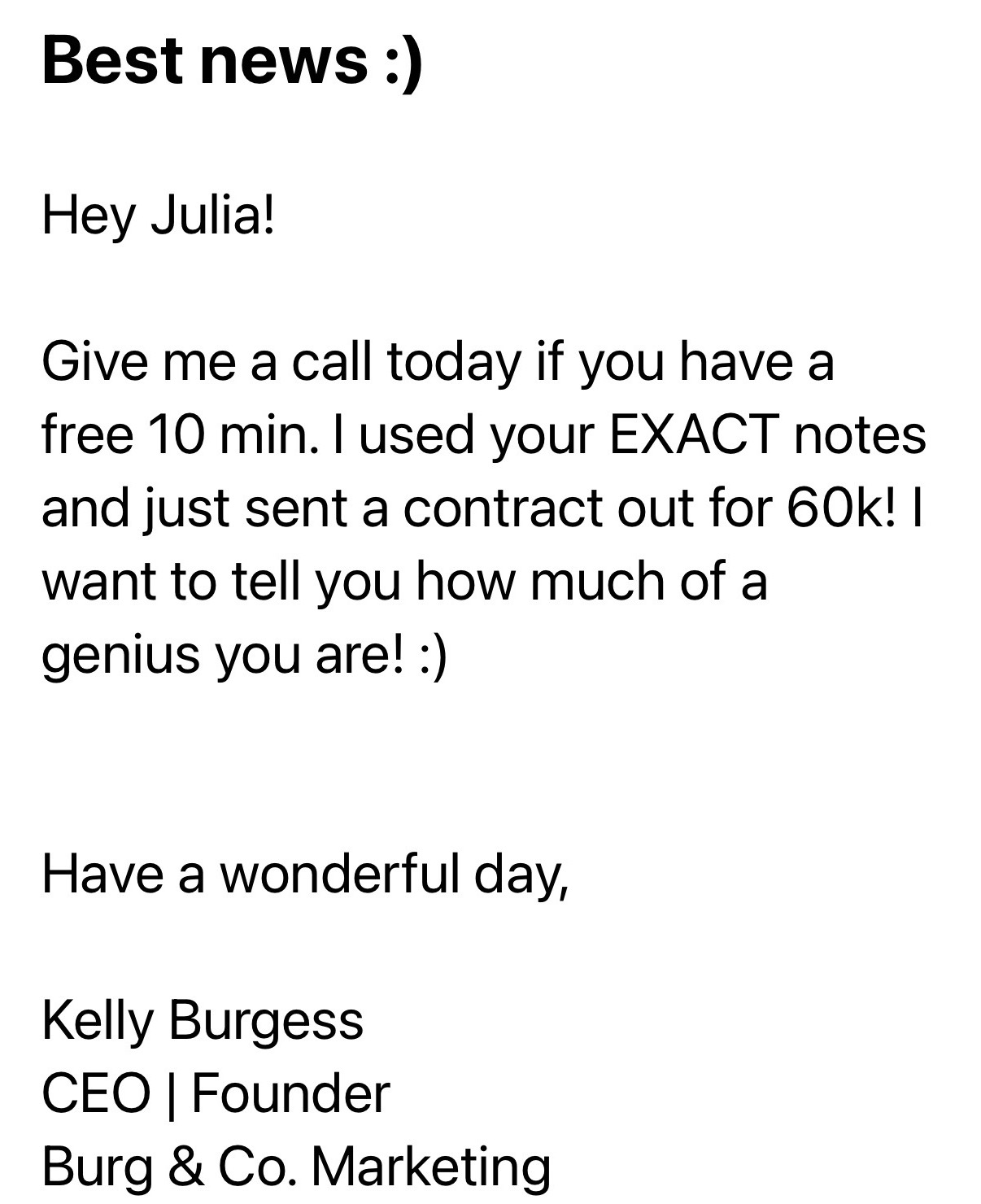 Julia Pimsleur has sold over $20M in products and services.
Julia Pimsleur is a scaling coach, author, and entrepreneur with a mission of helping one million women get to $1M in revenues.
Julia's passion for working with women entrepreneurs grew out of her own experience as the founder and CEO of Little Pim, one of the few women-led venture capital-backed companies in the U.S. She has raised over $26M in Angel, Venture, and philanthropic dollars and blogs regularly about entrepreneurship, fundraising, and how more women can "go big."
She is the daughter of language teaching pioneer, Dr. Paul Pimsleur, as well as an award-winning filmmaker, trained NLP master practitioner coach, associate professor at Parsons/The New School and mother of two. When Pimsleur is not speaking or coaching, Pimsleur can be found kicking a soccer ball in Central Park with her two amazing boys under the age of 14. She lives in Manhattan, speaks French and Italian and is an avid scuba diver. Learn more at www.juliapimsleur.com.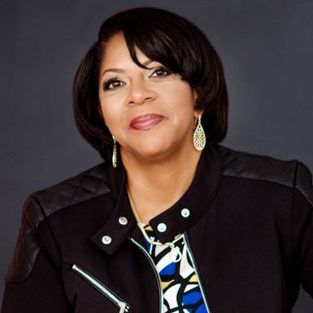 "The Sales CURE helped me to understand the perspective of my client so that I can speak to their needs. Since I've implemented The Sales CURE, I've had my best single month yet - I made $20,000 in four weeks. I love having a method I can use every single time and being able to focus on whether the client is a fit with me - not on whether it's a yes or a no."
DENISE HARRIS
Leadership Development Consultant, Denise Harris